Discover the best fonts for your next motion design project! The best part? They're all FREE.
When it comes to typography, motion design is much less forgiving than printed design. Whereas a most printed design is in front of your audience for an indefinite amount of time, text in motion design projects is only visible for a few seconds at best, so your audience needs to be able to read it quickly. Considering readibility issues, ultra thin fonts should be avoided, as well as those that are overly decorative. These fonts can suffer from a phenomenon known as aliasing where pixels can blend into each other, leading to color distortion and difficult-to-read text.
A Videomaker post featured 5 tips for choosing fonts in your projects. They noted that it's best practice to avoid 'stretching' the font, as it can distort the text and have negative effects on readability. "If you find yourself horizontally or vertically stretching a font to get it to work, you're probably better off searching for a font that works natively for your project."
Practically, this means your options are much more limited when it comes to choosing the right font to use in your projects. To make this process a little less frustrating, we're sharing our 15 favorite free fonts for motion graphics projects.

Inspired by late 19th century industrial fonts, RBNo2 is a simple sans-serif font that's incredibly easy to read on screen. The free version includes light and light alternative, but you can get the full version for $25.

As an ultra-bulb slab serif typeface, Chunk Five is a great font for adding Americana themes into contemporary projects.

Abraham Lincoln is tall and formal, much like the president himself. This font is perfect for lighthearted corporate videos and adds a simplistic yet formal feeling.

As the name implies, Couture is a simplistic font that was designed to emulate sans-serif fonts in the fashion industry. It's clean square shape makes Couture very versatile in motion graphic projects.

There's a lot to love about Merriweather. It's my go-to font for sans-serif block text, and the simple serifs make it a perfect blend of professional and modern.

In line with Couture, Nexa is a bold in-your-face font that holds nothing back. If you are looking to make an impact and get people's attention, Nexa is the way to go.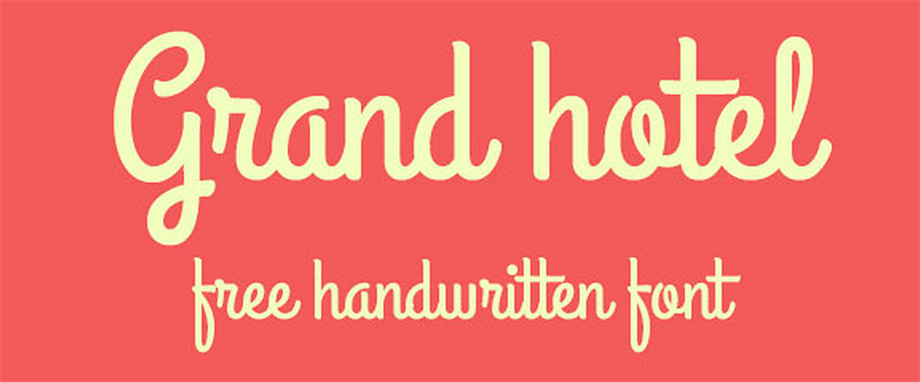 While we don't often use scripted fonts for motion graphic projects, every now and then a client calls for it. When that happens, bold strokes mixed with simple loops make Grand Hotel a great font to use.

Geared features simplistic masculinity that makes it great for fast paced videos. Playing off of industrial themes, the font is easy to read and grounded with a few lightly rounded serifs.

If you need something playful and light, Geo Sans Light has you covered. This lighthearted font is easy to read and even easier to work with.

There is perhaps no font better for motion design than Bebas Neue. Simply put, Bebas Neue looks good in just about anything. That being said, you are very limited. Beas Neue should only be used for main titles, as it gets somewhat hard to read if the text is more than a few words. Still, it's a great font.

Code is simple and it goes with almost anything. Enough said.

Tall Dark and Handsome is a great font for use in motion graphic titles, but it can also works great for credits, movie posters, and websites.

Liberator was designed to look like an old WWII-era typeface. The font is free to use and download today. Enjoy!

Governor is a simple, non-threatening san-serif font inspired by Art Deco. If you need a light-hearted font that's easy to use, Governor is the way to go.

Misson Gothic is one of the most versatile fonts on this list. With 10 different weights, you can use Mission Gothic in just about anything.
Want even more free fonts? Check out a few of the following resources:
25 Free Sans-Serif Fonts for Motion Design – PremiumBeat
Best Fonts For Motion Graphics & Broadcast Video -MoGraphCandy
The 100 Best Free Fonts – CreativeBloq
Any free fonts that you would like to share? Let us hear about them in the comments below.
[pb-cta]