At last week's Social Media Marketing World conference in San Diego, Zach King led a discussion on "The Future of Online Video." You may know King online as the Final Cut King or the "Digital Magician" of video. I've always been a huge fan of King's creativity and video editing, and his vision for the future is no less inspiring. Here's what you need to know.

Photo by Andy Owens (@OwenFilms) at #SMMW18

The Fourth Wall Will Be Gone
"Breaking the fourth wall" is a term used in cinema and theater when the actor directly addresses the audience, destroying the illusion that the piece exists as its own story, separate from the viewer.
King sees the future of video, including television, as being more focused on a vlogging or mockumentary style. Online, this style creates more intimacy with the viewer, who is likely even holding a smartphone close to his or her face while watching your video — that's an intimate experience!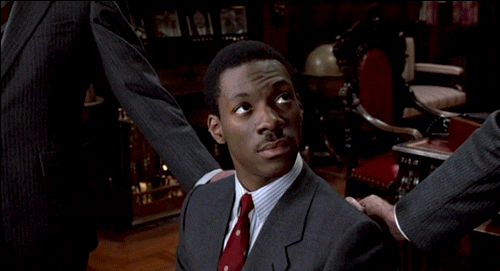 Eddie Murphy breaking the fourth wall in Trading Places
To build on this, King suggests video will increasingly evoke the idea that, "I just happened to be recording this" — even if it that's far from the reality.
Concepts, scripts, and storyboarding will continue to exist, but the most successful online videos will always appear to be spontaneous or unscripted.

There Will Be Minimal Dialogue
In King's early video content, he relied more on dialogue to carry the story forward. This made it a challenge to work with international audiences. So, instead, he started focusing more on effects that could translate across languages.
If you create videos that are more visual in nature, it can make the language barrier (even with a minimal number of captions) disappear. This also confirms the statistic that if videos can be watched without sound, they will be more likely to perform better on mobile devices.

Everything Will Be Interactive
With the rise of the HQ Trivia app, live video, and virtual reality, it's clear that the ability to interact with the viewer is becoming more and more common.
Think about the ways you can invite your users to participate in or engage with your video. King focused on this when publishing his children's book, My Magical Life, which allows you to add AR overlays:
Vertical Video Will Remain BTS
King is not a fan of vertical video, noting that there's 75% more composition (or real estate) available in square and horizontal layouts for adding information onscreen or building characters. While vertical video will still most likely be around due to the layout of apps like Snapchat, it will remain used primarily for behind the scenes (BTS) or quick (not professionally edited) online videos.
There are filmmakers out there who still promote vertical filmmaking as the future for online video, of course, such as Andy Burgess and others on Snapchat who call themselves "vertical filmmakers," but King is not one of them.

Capture Your Audience Before They Lose Their…Wait, What Was I Saying?
With online video, you have to capture your audience in the first few seconds — or at least include a teaser upfront to excite the viewer for what's about to come.
I like to call this the "pre-exposed" easter-egg approach to editing. You know what the "egg" looks like, so you look for it in the video by scrubbing with the playhead. This is very common on YouTube. Creators now often show a teaser highlight of the video at the very beginning, but then continue on with a standard vlog and wait until near the end to reveal the big story.

Successful Videos Will Be Multi-Purposed
It's not always possible to create evergreen content, but it certainly is possible to create content that can be applied to multiple occasions, like international holidays and happenings in popular culture. For example, King created a video about a man in a painting who comes to life to bring flowers to his neighboring painting crush. He then (re)shared this video on International Museum Day and on Valentines Day, because the video is about love and art.
But, Some Things Never Change…
"These are just 24 frames per second that are somehow able to convey so much emotion; I have to be a part of that." – @FinalCutKing
With all of the above in mind, King reassured audiences that good video will always go back to a storyline. Despite the changing of our medium from 16mm film to H.264 compressed digital videos, much has stayed the same. You still need a story arc and a problem to solve so audiences can be satisfied and entertained.
If King plans to to disappear in a video, he doesn't just disappear — he also makes sure to relate it to human emotions. In fact, the ideas for King's videos all come from being human; as fun as they can be, they all come from his fears, wishes, obsessions, love, and thoughts on life.
To accomplish your own goals for creating video, King urges you to get an app or notepad to take notes on. It's also worth getting a whiteboard to brainstorm and storyboard on with your team.
For more from Zach, check out his YouTube channel, and share your own thoughts on the future of video in the comments below!