This quick After Effects tutorial will have you using the snapping feature in a snap!
Depending on who you ask, snapping is either the greatest feature in After Effects or the worst. However, despite what the critics say, it's an incredibly helpful feature and definitely one that you should judge for yourself.
In just about every Adobe program, there is a snap feature. While it can sometimes be annoying, the snap feature in After Effects can help you line up your layers perfectly with each other without using the align tool. Using snapping in After Effects isn't difficult. However, there are a couple of options that we'll need to cover in order to master the snapping feature in AE.
Turning on Snap
To turn on the snapping feature in After Effects, simply click the small button next to the word "snapping" in the top tool bar.


Snapping Along Edges Extending Beyond Layer Boundaries

To turn on snapping along edges extending beyond layer boundaries, simply click the  button to the right of the snapping text. As the name implies, by selecting this button the layer's edges will stretch into infinity, allowing you to easily snap your layers to them. The following images explain the feature. The first image is without the button selected:

This second image features the button selected:

As you can see, by having this feature selected you can more easily align your layers when they don't overlap.
Show Features Inside Collapsed Compositions and Text

One of the more interesting features associated with the snapping feature is the "Show Features Inside Collapsed Compositions and Text" button. This feature allows users to snap to transformation data within a nested composition with the collapse transformation button selected and 3D layer turned on. Essentially, this will snap the position in both x,y, and z space across a pre-comp.
The following example shows this feature in-action. It's simple yet useful if you are trying to quickly move an object to a position in 3D space.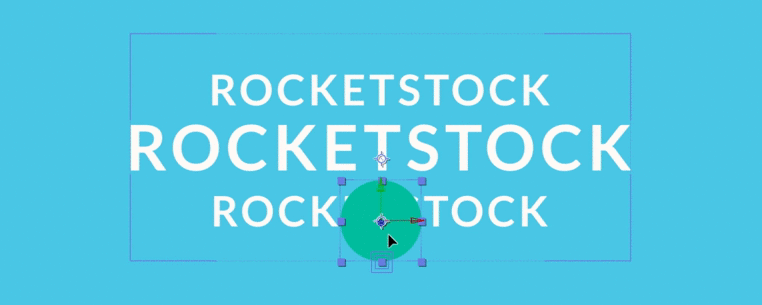 Here's what the layers looked like. As you can see, all of the text is actually pre-composed in a whole new composition.

While it does take some getting used to, the snapping feature can be an incredibly useful tool to use in After Effects.
Want to learn more about using the snapping feature in After Effects? Check out a few of the following resources:
Snapping of Layer Features – Adobe
Layer Snapping Demo – Adobe
After Effects New Features: Snapping – ReTooled