Creating an overlay or title sequence that you want to make sure keeps the alpha channel on export? Here are some of the best video codecs and image sequences that will make layering clips a breeze.
Whether it's a simple title card or a complex VFX action explosion, these codecs with alpha channels can make layering video files easy.
Best QuickTime Video Codecs with Alpha Channels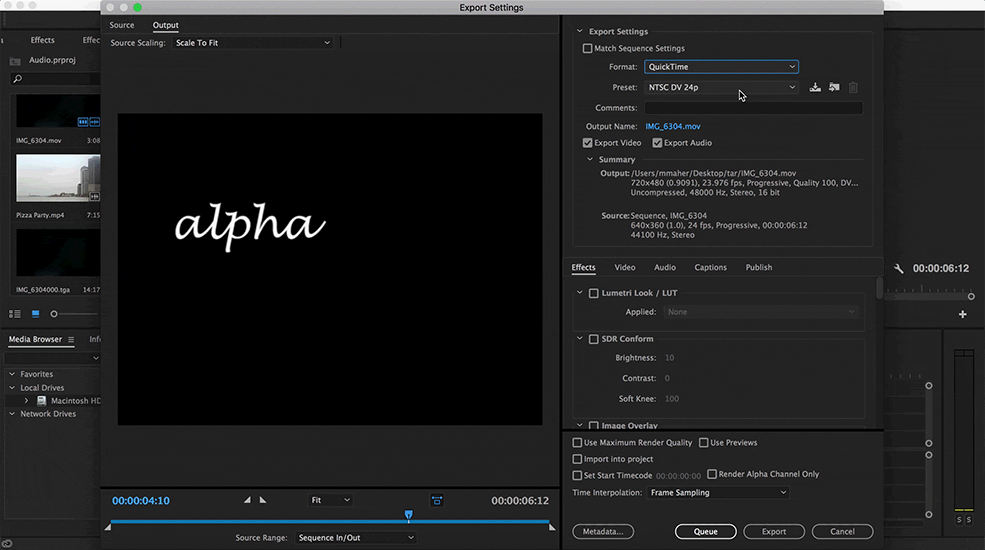 Exporting to a QuickTime format will actually give you a few codec options with alpha channels. One of the best and most versatile codecs is GoPro Cineform (which is found under the QuickTime format). I'd highly suggest using GoPro Cineform RGB 12-bit with alpha at Maximum Bit Depth.
Another great option is the always useful ProRes codec — be sure to select Apple ProRes 4444 for the alpha channel. Another Apple option is the Animation codec.
These are just a few suggestions; scroll to the bottom for a more extensive codec list.
Image Sequences with Alpha Channels

If you don't need a video file, image formats with alpha channels can easily be used to create sequences when imported into your NLE.
Here's a quick pro tip about using images: Don't select all the images when importing into an NLE or program like After Effects. Rather, select the first image and make sure you have the "Image Sequence" setting enabled.
Cineon and DPX files are pretty standard in television broadcast, while VFX houses tend to use codecs like Maya IFF. You can also easily use popular image formats like PNG or TIFF.
Video Codecs and Image Formats with Alpha Channels
Apple Animation
Apple ProRes 4444
Avid DNxHD
Avid DNxHR
Avid Meridien
Cineon
DPX
GoPro Cineform
Maya IFF
OpenEXR Sequence With Alpha
PNG Sequence With Alpha
Targa
TIFF