Knowing the ins and outs of every clip on your timeline is made easy with this simple Final Cut Pro keyboard shortcut: Shift-Command-G.
Top image via Shutterstock
Final Cut Pro offers users the ability to breakdown, customize, and analyze everything imported into the timeline. FCPX has expedited the process with a few easy to use keyboard shortcuts that allow users to identify and store footage in an easy, accessible way. Let's take a look at one keyboard shortcut you can put to use on your next project: Shift-Command-G.
Final Cut Pro Keyboard Shortcut: Shift-Command-G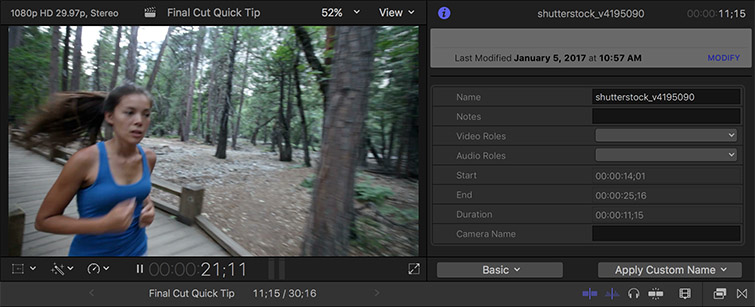 By hitting the keyboard shortcut Shift-Command-G on the desired clip, you can make personal notes about the footage. This organizational tool can be extremely effective when sharing your work with other editors and can be helpful if your work needs approval before being published online. Notice you can also mark which camera was used for each clip, as well as the location of the shot.

Another detail shown: the clip's time markers. When dealing with exact cuts for either audio purposes or effects work, knowing the time markers for each clip is made simple with this easy shortcut.
Final Cut Pro offers hundreds of easy-to-remember keyboard shortcuts that are designed to help editors produce a faster, and quite frankly, better product.  For more FCPX tips and tricks, check out the Final Cut Pro X Page over at PremiumBeat and be on the lookout for more quick tips in the near future.
---