With these four simple steps, you'll learn how to export a high-resolution QuickTime movie — compatible with YouTube and Vimeo — from Final Cut Pro X.
Top image via Shutterstock.
You've slogged through your edit, but you aren't done yet. Now you've got to export your video — and there's a right way and wrong way to go about it, depending on where your video is meant to end up.
Whether that's with a client, a co-worker, or in the hands of the general public on YouTube, choosing the appropriate method of exporting your video is simple and easy to remember. Let's get started.
Step 1: Choose the Right Export Option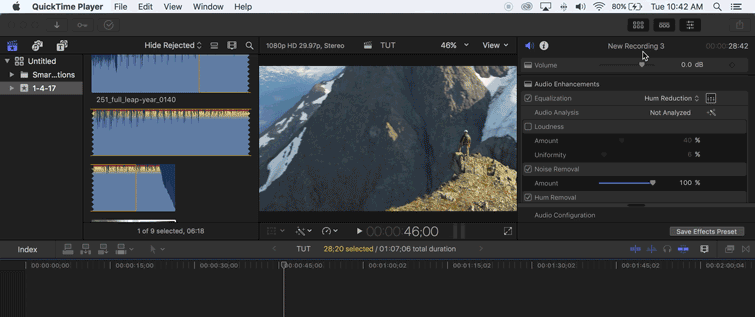 Locate the Export button in the top right corner. You'll be presented with all kinds of options, like exporting straight to Facebook, YouTube, and Vimeo. You've got to keep in mind that these sites can compress your video in unwanted ways, leading to a drop in quality. As such, we recommend choosing Master File. This will present more export options and give you more control over the final product.
Once you have this open, you can change the name of your project and add description tags like Spring, Hiking, Outdoors, Sony, etc.
Step 2: Set the Format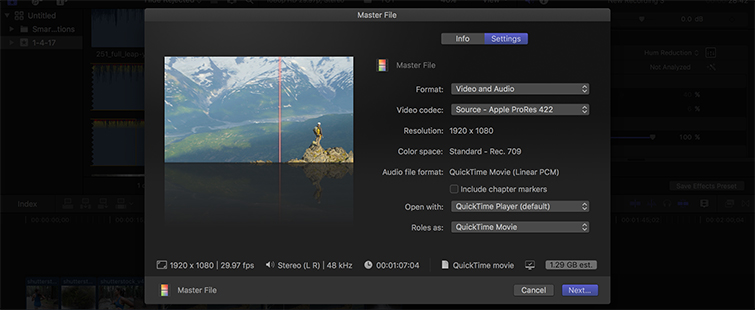 Now that you've set up the project name, description, and tags, go to Settings. Make sure to check Video and Audio under the Format tab. If you leave it checked as only Video or only Audio, FCPX will only export one or the other. After this, you're presented with the opportunity to choose a codec.
Step 3: Choose the Right Codec

Choosing a codec might seem intimidating — there are a lot of options. AppleProRes 4444 XQ is the highest quality, but you don't necessarily need to choose this route. The files size will be way too big and will take up too much space.
I'd recommend going with H.264 (Vimeo and YouTube recommend the same) — the quality will remain, but your file size will be significantly smaller. Really, for any content that will be published and viewed on the web, H.264 is the way to go.
Again, when choosing the codec, keep in mind — the higher the quality you decide to go with, the larger the file size.
Step 4: Save as QuickTime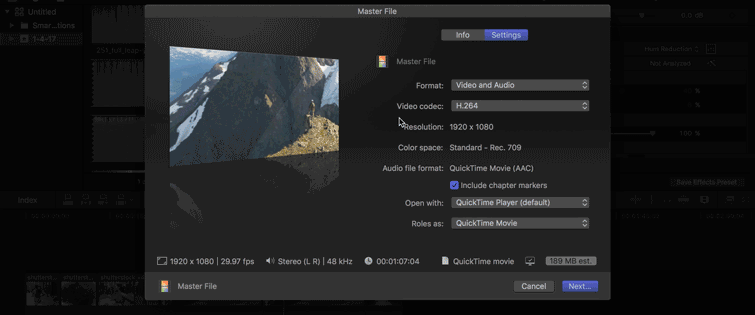 After the previous step, you'll see a box checked (or not checked) for creating chapter markers. This really only applies when creating DVDs.
Finally, set the file to open as a QuickTime movie and you're good to go. Double-check your settings and Save the video to your desired storage location! On to the next project!
---