QuickTime offers a quick and free way to record your screen. Here's how to keep your screen capture footage and audio in sync.
Top image via Shutterstock.
At some point in your career, you will probably need to record your screen with voice-over audio. Whether you want to make a tutorial or show a client how to use elements that you've created (I've run into this one a few times myself with lower thirds that I've passed over to an editor), sometimes it's easier to demonstrate something than it is to type it out.
A quick-and-easy (and free) way to do this is by using QuickTime Player. However, if you want to edit the footage that you capture (using editing software like Premiere Pro or Final Cut), there are some limitations that you should know about. More on that below.
---
QuickTime Screen Recording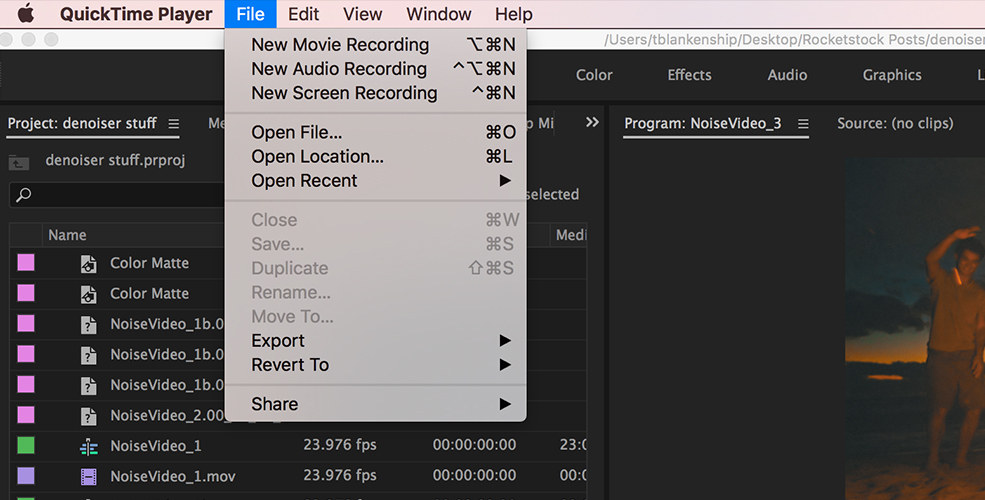 To record your screen in QuickTime, once you open the software, you just need to select the New Screen Recording button (from the File menu). There, you just need to make sure that your audio input is correct by selecting the audio input drop-down (pictured below) and setting it to the microphone or audio input that you use. A popular mic setup for voice-over recording is the Blue Yeti USB Microphone.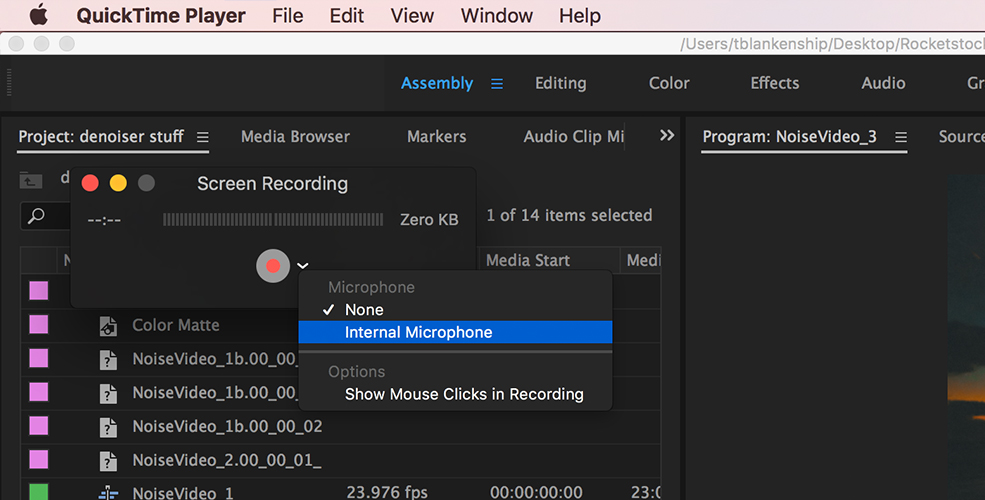 From there, the program will prompt you to either click to record the full screen, or you can drag to select a portion of the screen. It's important to consider your final output size as it relates to the resolution of your display. To be safe, I like to open up any image that I know is 1920×1080, resize it as large as I can on my display, and use the drag feature in QuickTime to select that area only. That way, when I finish the clip out in HD, the edges of frame don't get cut off, and there won't be any dead space on the edges. After you select your area, hit the Start Recording button. You are now screen capturing.
After you've finished doing whatever you'd like to record, just hit the ESC key and press the stop button that appears.
Variable Frame Rate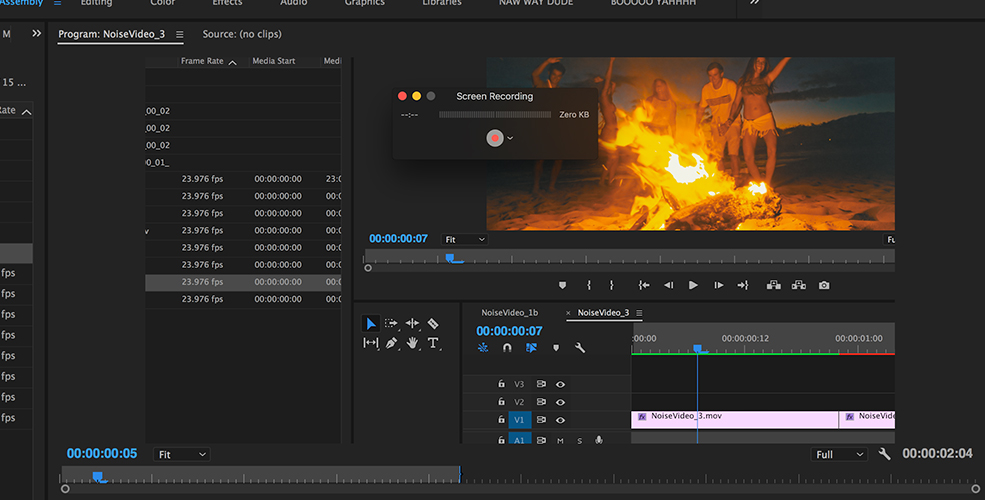 The issue is that when you record your screen in QuickTime Player, it records at a variable frame rate. This means that the software responds to how quickly your hardware can record based on how much processing power you're using. So, if you have a slower machine, it will record at a slower frame rate, and if you have a beefed up machine, it will record at a much higher one.
This presents a problem, since any editing software needs to use a specific timebase as far as frame-rate is concerned. As a result, your editing software is going to conform your footage to a specific frame rate, and your audio will become out of sync. The longer your clip, the more out of sync your audio could get. If you watch your footage in QuickTime or VLC, everything will look fine, but once you try to edit the footage, you will have a big problem on your hands.
This is an issue that has befallen the YouTube gaming content community as well, and the most common way to fix it is by using Handbrake.
Handbrake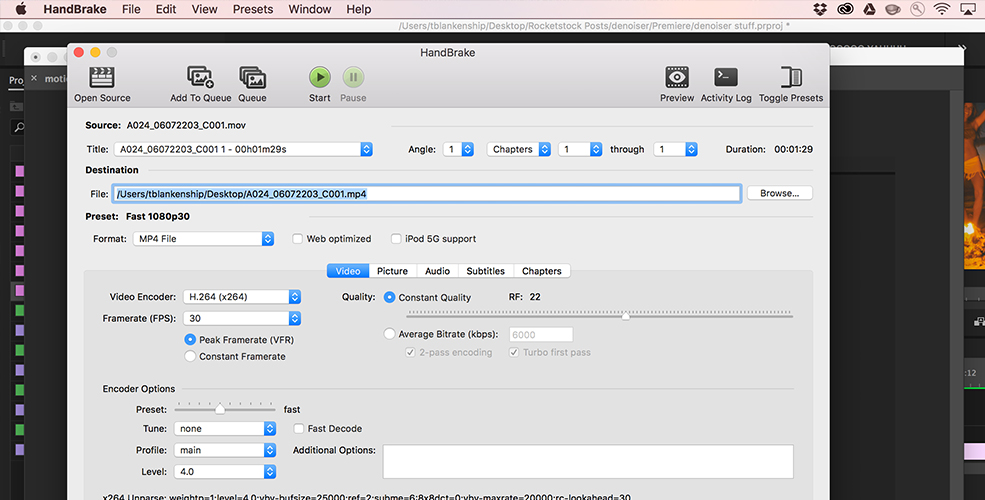 Handbrake is a free, open-source video transcoding software. My first experience with the software was using it to rip video clips from DVDs so that I could keep a huge library of my movies on the go. Handbrake's various uses have evolved over time, and it is still a very worthy (and free) program to keep on your machine.
To use Handbrake to convert your clip from VFR (variable framerate) to CFR (constant framerate), you just need to open up the software and click on the Open Source button and select your clip. Next, in the Video Options tab, change the selection from Peak Framerate (VFR) to Constant Framerate.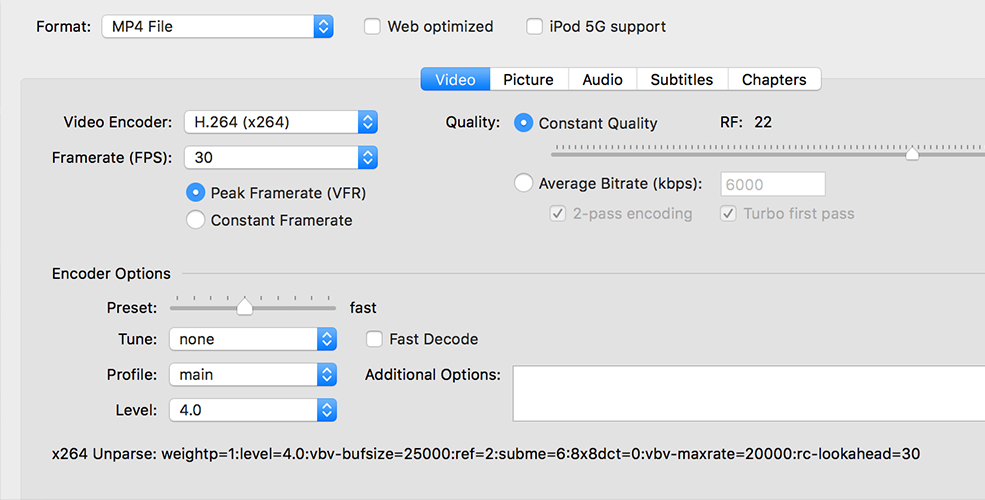 You can select whatever remaining settings you want for your particular project, and then hit the Start button at the top. You can also create a batch list of clips to convert by using the Add to Queue button.
After a short wait, you'll have a converted clip, and you can edit your footage to your heart's content — and your voice-over audio will match your footage.
The video below shows the process in detail.
---
Alternatives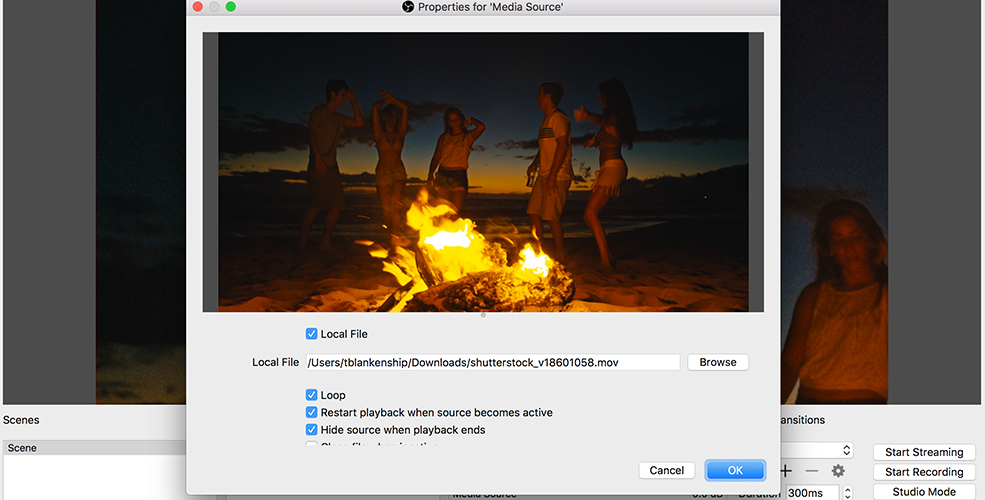 There are a quite a few other free screen recording tools. For Mac and Windows, you can try OBS Studio, and there is also XSplit or CamStudio (limited to .avi export) for Windows only. Of these other free options, I prefer OBS Studio the most. It has quite a few capabilities, including live-switching from multiple camera angles and sources, live color correction, graphics, live chroma keying, and it also defaults to Constant Framerate recording. OBS is common for live-streaming, but it's a very capable screen recording software as well.
There are also quite a few really good paid alternatives like Camtasia or Screenflow (among many others). Camtasia is the choice of many professionals, as it is a pretty extensive screen recording program with the most features, but it also comes with a $199 price tag. Screenflow is just a notch under Camtasia in capability; however, it costs less — starting at $99.
So, if screen-capturing with audio is something that you think you'll be doing often, you might consider one of the paid options. In most cases, however, you'll be just fine using QuickTime or one of the other free options available.
---