See how Ikea manuals influenced the design of Ex Machina, grapefruits in Blade Runner 2049, and video games in Guardians of the Galaxy. This is the work of Territory.
All images via Territory.
User interfaces in film have come a long way in that past decade. Motion graphics are now fully customized to each individual film to create realistic computers, HUDs, and displays. Some of the most stunning and well designed UI come from the London based Territory.
Now with offices in London, San Francisco, and New York, the company creates motion graphics for a variety of film, television, and game companies. Their specialties include Screen Graphics, Title Design, Creative Advertising, Design & VFX, Future Tech, and more.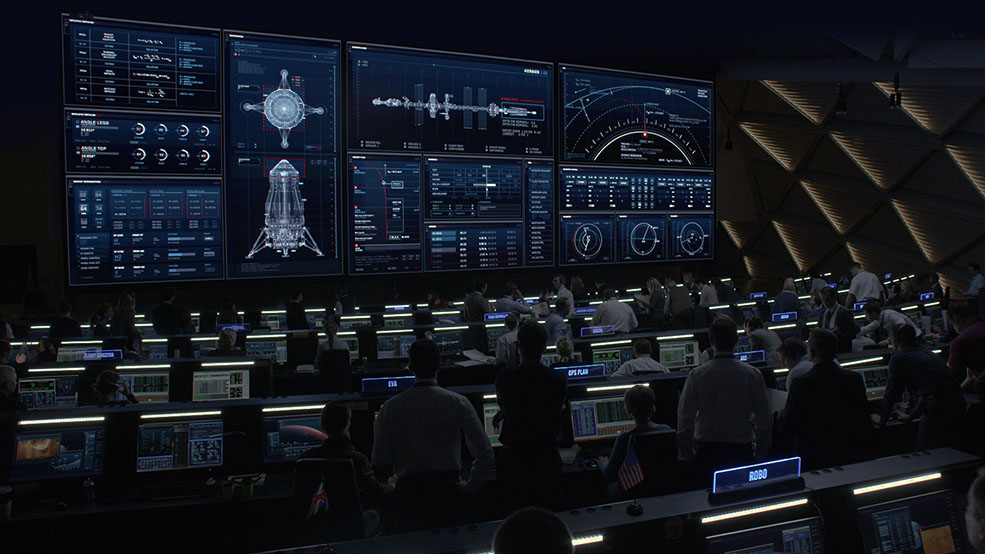 Territory describes themselves as a company with a "uniquely refined design intelligence [and] near-future expertise." It's with that mind set that they create stunning user interfaces and desktop displays for sci-fi films like Blade Runner 2049, Ex Machina, and Prometheus.
As for the tools they use to create these mesmerizing graphics, Territory's Nick Hill reveals,
After Effects, Illustrator, and Photoshop are integral to my workflow; I couldn't do a day's work without them. Remaking Illustrator assets as shape layers in After Effects gives me more scope to animate things. And it would be pretty difficult to design a computer screen for a movie without the integration of Cinema 4D and After Effects. All of the screens I worked on for the film went through After Effects. I created assets in Cinema 4D, a designer created assets in Illustrator, and I put everything together in After Effects to create a 20-second loop so when it plays on set they can shoot continuously.
Let's take a look at some of their stunning work, and then you can try to create some of these UI-graphics yourself.
Blade Runner 2049 Screen Graphics
For the epic sequel to the classic sci-fi noir film, Territory needed to create the user interfaces for the LAPD offices, select vehicles, and even a few of the building exterior advertisements.

Territory Studio joined the art department in the very early stages of production. We worked closely with Director Denis Villeneuve and Supervising Art Director Paul Inglis to support storybeats, performance and context. Adopting an experimental approach, the team set out to create highly original screens. Working across 15 sets, we delivered over 100 assets for on set playback, also driving the design direction for those concepts delivered to post.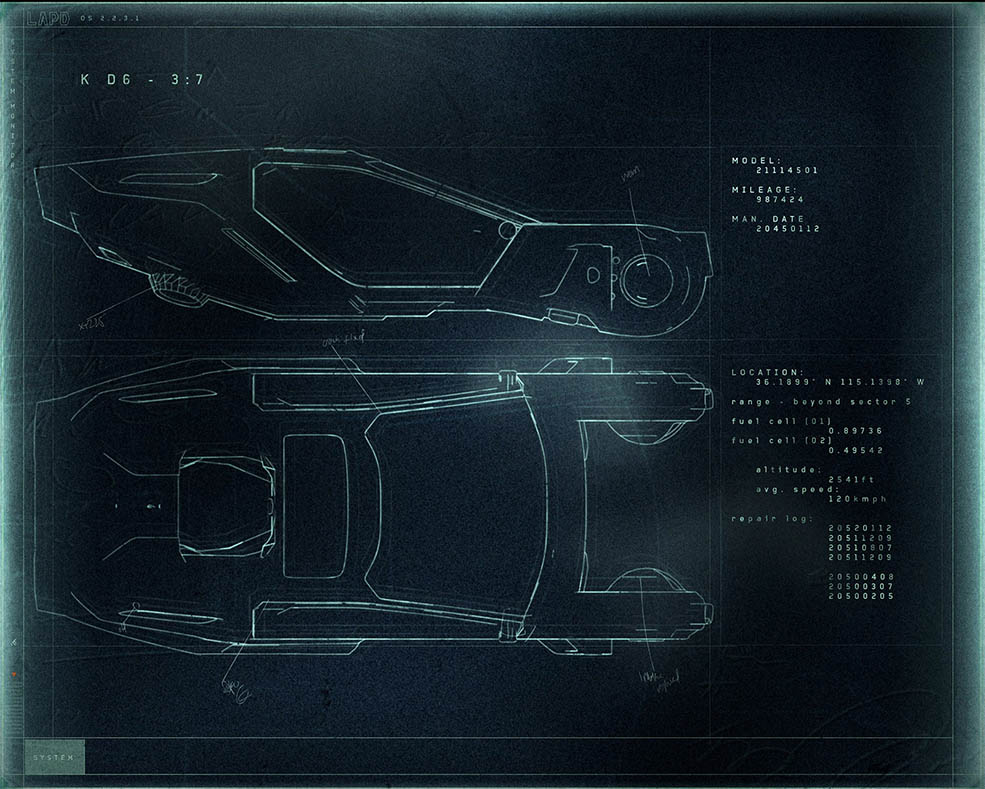 For K's vehicle, Territory created the interfaces and dashboard panels.
A dilapidated and glitchy vehicle, it's an extension of K's low status as replicant and blade runner. To convey age and disrepair we designed interfaces with warping, ghosting and color degradation, adding glitches and surface textures to suggest an out of date technology that has seen a long and rough life.
The LAPD's technology in 2049 is functional, with clear military references.  Navigation screens blend geographic details with minimalistic iconography. The geometric detail of the black and white scans sent from the pilotfish drone contrast sharply with cockpit displays, reminding the audience of advanced capability in surveillance and reconnaissance.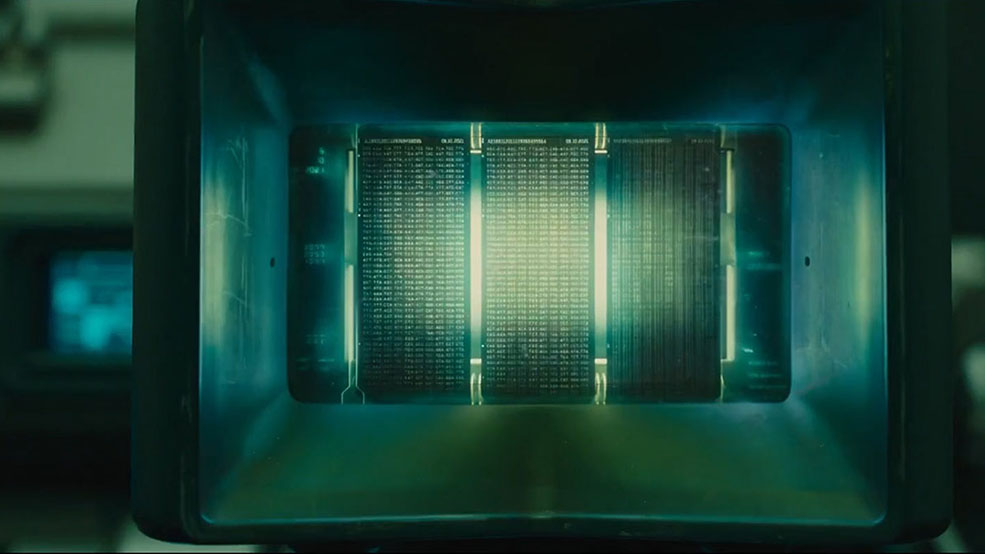 In the LAPD offices, the team at Territory created screens for desktop displays in offices, the computers in the morgue, and the DNA archives.
[In Joshi's office] Screens include a secure facial recognition system, location of active spinners, status of agents and officers, pilotfish feeds and suspect profiles. The visual language is clean and utilitarian and the limited colour palette and screen burn suggests old technology consistent with Villeneuve's bleak universe.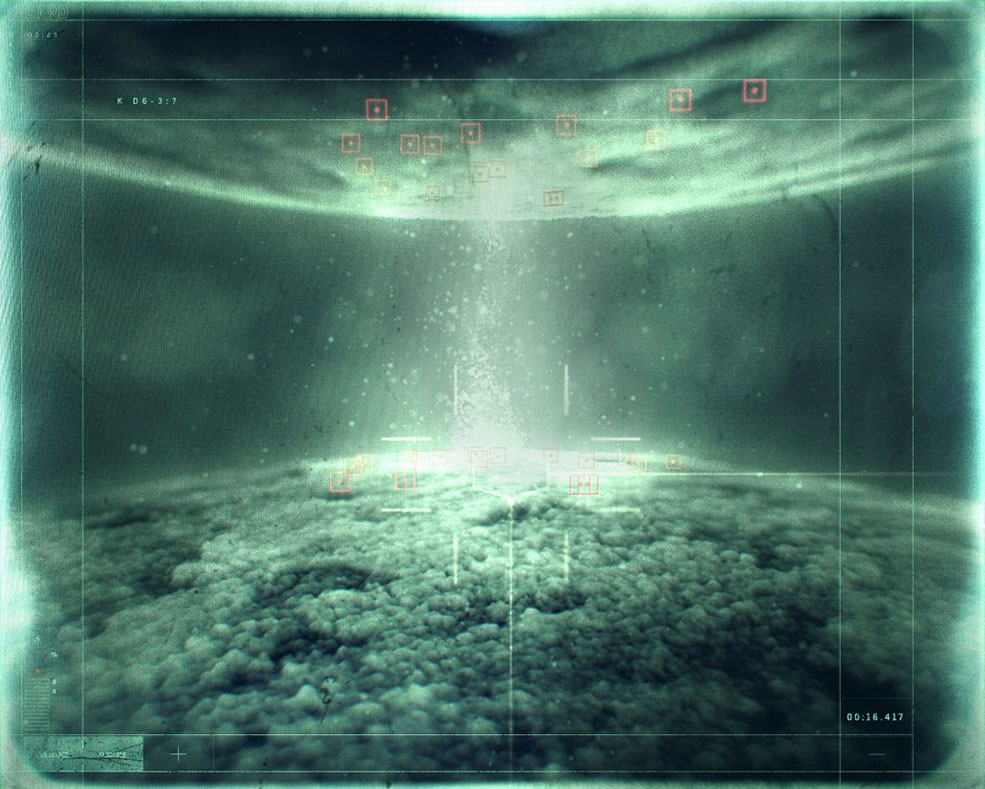 They also use some macro-photos of a grapefruit to help sell the look of the Baseline scan graphics.
An advanced version of the 'Voight-Kampff' test, the Baseline scans show the view through the optic nerve, suggesting neural activity in the replicant. A reminder of technological progression since the original film, the intention was to achieve a level of abstraction in the images that had an aesthetic, as much as organic quality. Macrophotography and photogrammetry of grapefruit flesh provided the perfect organic abstraction of neural activity that Denis was looking for in this sequence.

On the look of Deckard's scanner in Vegas…
A small military scanner looks out on the abandoned city, alerting Deckard and K to an impending attack. Designed to look like a hacked military scanner, the simple interface alludes to the action about to unfold.
Read more and browse their Blade Runner 2049 screen graphics here.
Ex Machina OS
For the sci-fi thriller Ex Machina, Territory created many of the OS screen graphics used throughout the high tech household compound.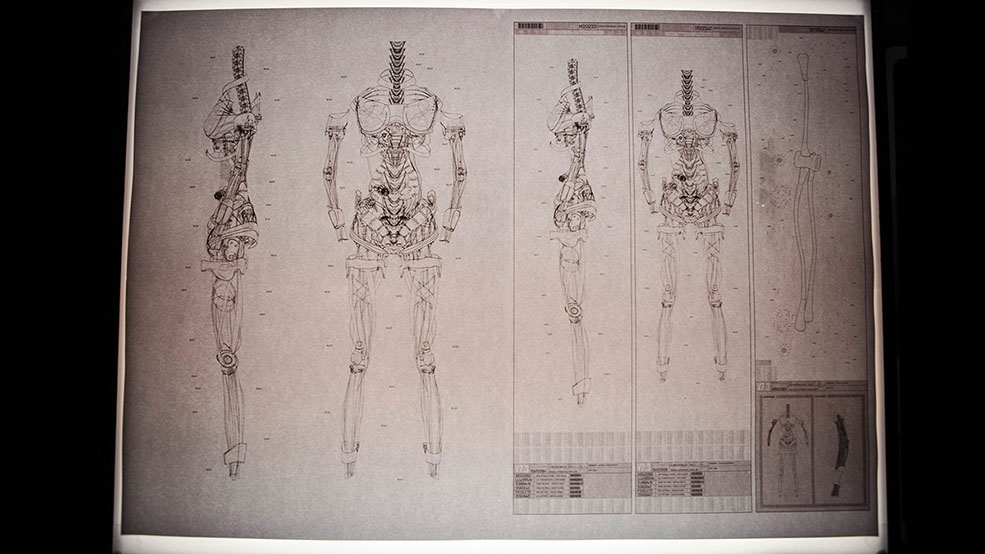 Referencing Haines manuals and Ikea instructions, Territory modeled and rendered these detailed blue prints for use within the film. As Nathan and Caleb discuss assembling an AI they feature as large light boxes on walls.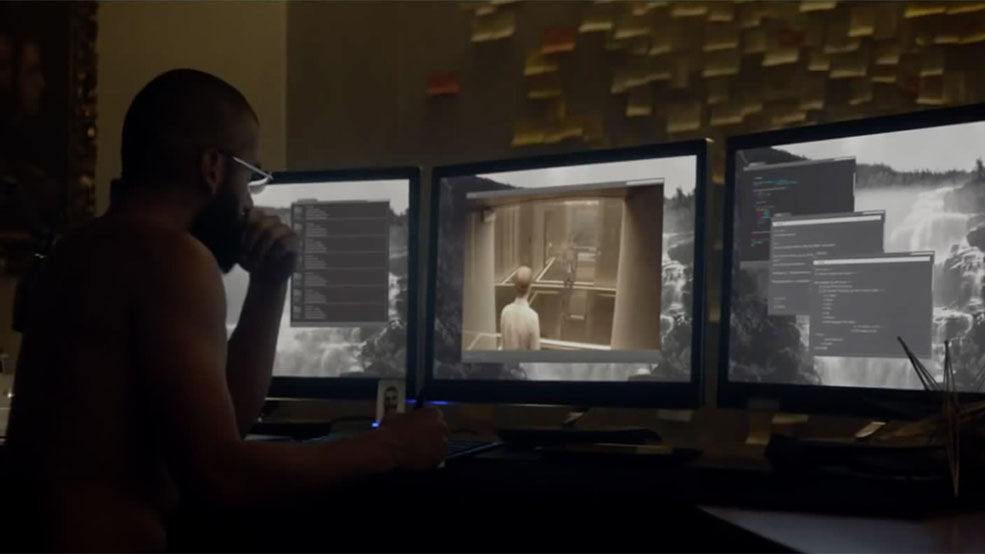 Working with Garland's team, we rooted our concepts in current trends in OS design and programming to create an operating system that felt right for the story's multibillionaire genius programmer who designed both the OS and the AI.

Guardians of the Galaxy Graphics and VFX
In the Marvel space epic Guardians of the Galaxy, Territory created everything from graphics and typefaces to VFX. The company worked closely with Director James Gunn and Production Designer Charles Wood to design the screen graphics for many set pieces.
We were tasked to create on screen graphics and vfx for all environments – spaceships, planets, prison, street markets, gambling dens, etc, and as a story that's more about characters and personalities than drama, we were able to take a more human, less polished creative approach to graphics.
Perhaps one of the most iconic sequences from the film was the prison lineup and Nova processing.
The director wanted to introduce the characters and their backstory by using a prison lineup along with an infographic overlay as a rapp sheet. Territory built an entire UI system, so that each characters bio, X-rays, finger prints and other details were displayed bespoke to each character. As unknown entities before the movie release, this graphic device became synonymous with marketing imagery for the film.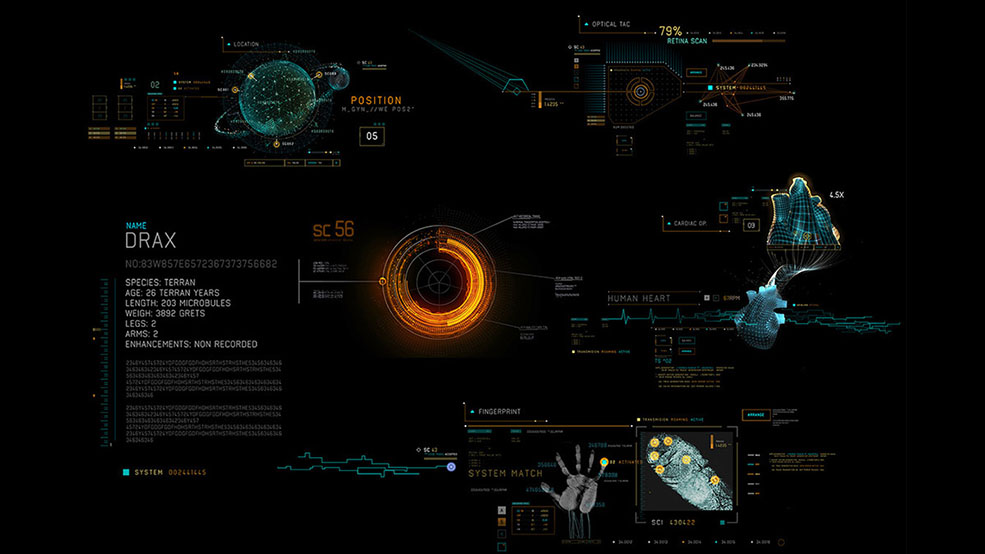 For the Milano, Peter Quill's ship, the designers looked to old airplanes and 80's video games.
Our UI needed to reflect both this engineering sophistication and Quill's can-do attitude to hacking the system to get the extra performance he wants – he's more interested in effective modifications than in perfect code, so our screen graphics for the ship's navigation, weapons and entertainment are a bit rough and ready to reflect this.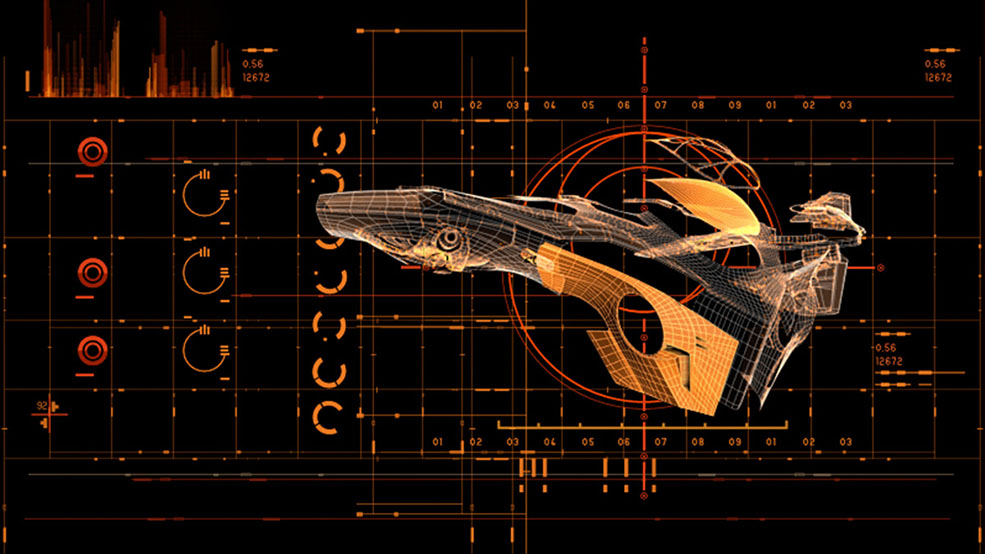 To convey a sense of age, our reference points were old airplanes, engineered metal and the lovely warmth of worn leather seats. As Quill has a soft spot for the 1980's, we drew on red, orange and black color palettes, much used in 80's video games and early UI, and added nostalgic details, such as the music interface that Quill hacked to simulate a 1980's tape deck.

You can read more about their work on Guardians of the Galaxy here.
The Martian Screen Graphics and UI
Unlike the traditional sci-fi futures like those mentioned above, Ridley Scott's The Martian relies on a realistic near-future design. The film takes place only 20 years in the future during a manned mission to Mars.
Predicated on real science, Director Ridley Scott and Production Designer Arthur Max drew on the expertise of specialists at NASA and the European Space Agency, and asked Territory to craft the screen graphics and UI that would be needed to support the script and action.
The largest screen graphics sequence was the NASA Mission Control. The set required graphics for 100 screens, which included the massive back of LED monitors.
The brief for the Mission Control screens, including NASA and JPL, was to keep things looking real. One of the film's key scenes plays out in NASA Mission Control so it was essential that we got the balance right between factual screen content and visual design.

Each screen has a real purpose in that context and we needed to make sure that we reflected that in the design detail. And, it was important to give a unique identity to the set, which features a lot of information, including realistic video feeds and telemetry data that the actors react to and interact with.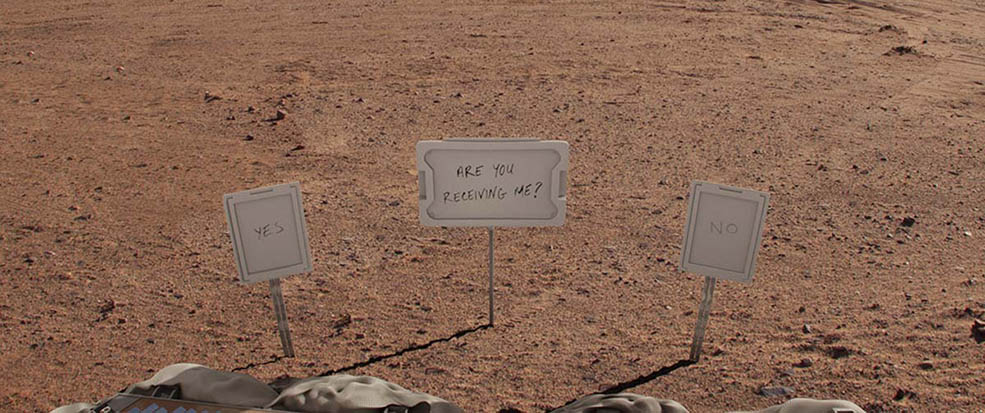 One big sequence in the film required Matt Damon's character to communicate back with NASA using his Pathfinder.
Factual accuracy was key, so our designs were absolutely true to the original Pathfinder systems, which NASA gave us references for. We ended up reproducing the actual way the images were decrypted in some of the key scenes, in which Mark Watney (played by Matt Damon) is using the camera to communicate with Earth.
Back on Earth, NASA Mission Control would then forward Watney's message to the Hermes ship that had left him behind.
Hermes needed to suggest an advanced avionic interface and we were asked to come up with a twist on current thinking. To get a sense of the latest interface design in spacecraft R&D, we looked at NASA's own projects, some in development, others still conceptual, and we looked at how SpaceX are designing their consoles.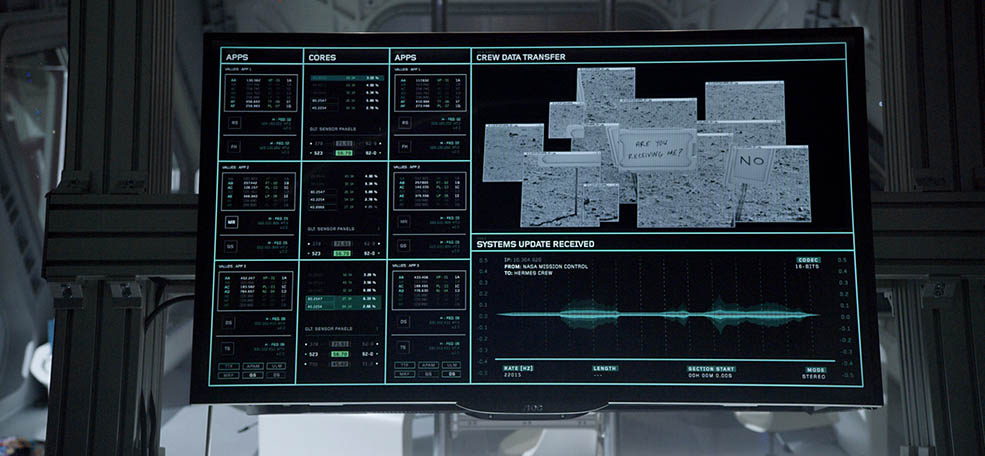 Out of the routes we presented, Arthur Max felt that this bright blue, green and white palette against a black background, with a clear grid structure to the data displays presented a good balance between authentic data, visual impact, and a more contemporary avionic interface.
For more on Territory's work on The Martian, check out these images and breakdowns.
Avengers: Age of Ultron UI
For Avengers: Age of Ultron, Territory created a new look for the labs of Tony Stark and Bruce Banner. In total, they created over 200 screens and 80 minutes of unique animations for 11 different sets.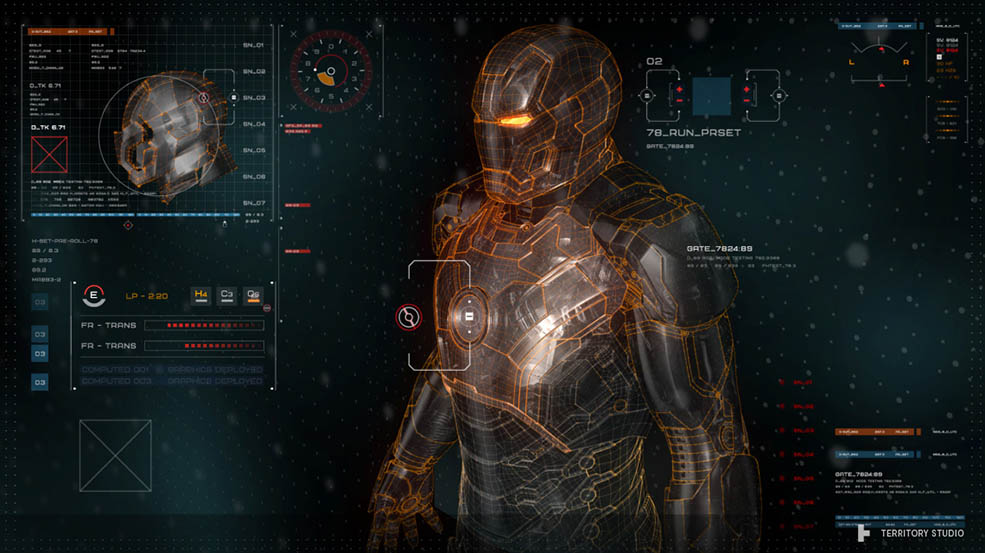 For an established character like Tony Stark, we 'evolved' the style and mood of his supporting graphics to reflect this darker, yet very human storyline. A huge lab set that featured dozens of screens, we researched Stark's interests in advanced engineering, robotics, AI, avionics and architecture, and included elements that referenced innovations and work in progress in his screens.

To make sure that we reflected authenticity, we checked with the costume and props departments to make sure that we tied in with battle damage to the technology and Iron Legion and Iron Man suits.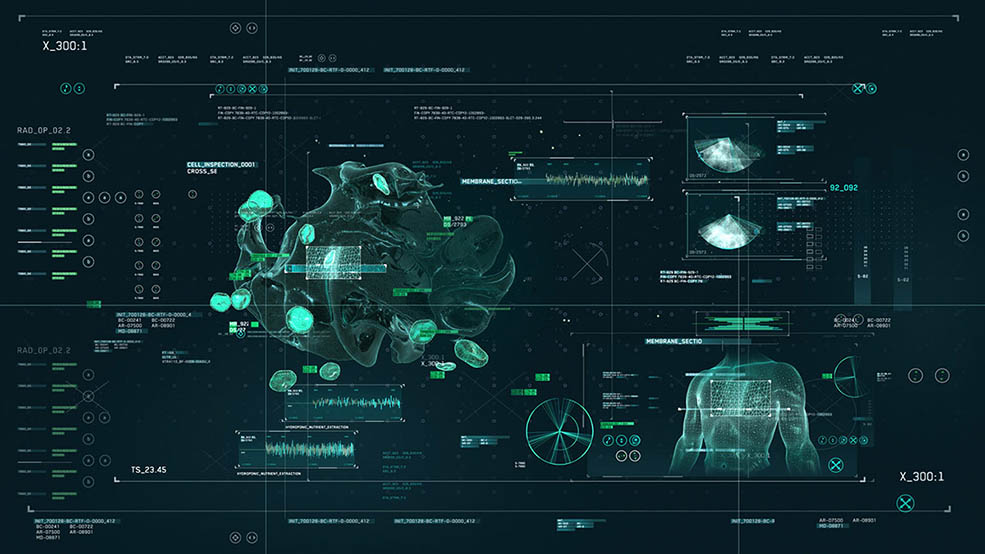 As for Bruce Banner / The Hulk,
Green was the natural color palette for Bruce Banner's UI and wanting to reflect his biological research background, the screens featured carefully researched references to advanced cellular and plant biology, and state of the art MRI technology.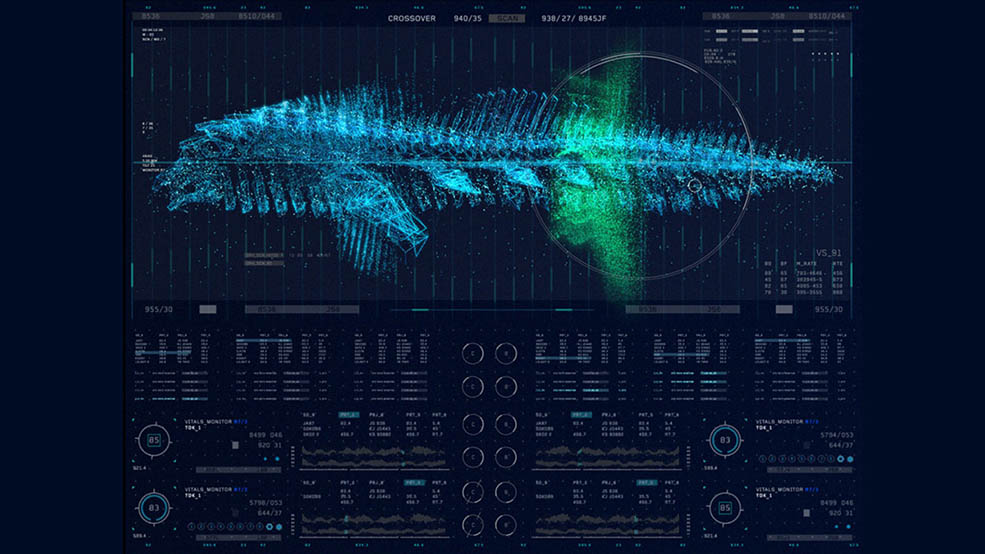 For Baron Von Strucker's fortress,
We created screens that showed Von Strucker's plans to merge alien and human technology. It's always a great challenge to mash up human and alien references, we wrapped organic and tech elements in a hard military-style UI.
---
Make Your Own Sci-Fi UI
Want to try building your own screen graphics? Try out some of our HUD and display elements. If you don't already have the pack, you can download 12 FREE HUD elements in our Spider-Man Homecoming tutorial. You can grab those free elements here.
If you really want to go after that authentic look from Territory, here is Nick Hill's presentation on creating screen graphics from NAB 2016.
---
Sign up!
Get more tips, free clips, and exclusive savings delivered to your inbox.
Enter a valid email address.
You have been successfully subscribed.