Can't get that ultra-wide shot without a light having to be in your frame? Try out this simple compositing method to remove it easily in Premiere.
Trying to get good lighting on wide shots can be tricky. Without extremely powerful lights, it's hard to get good coverage over a large area, especially outdoors. If you only have a SoftBox to work with that doesn't have enough wattage to properly brighten up your scene, you may think to just scrap the shot entirely. But most of the time, you are going to need that master shot to complete your coverage.
So what is one to do when faced with this situation?
Well, you can employ a little trick we learned called "Lighting in Plates." Its a form of compositing where you light your scene in sections, then stitch them together in post. It's a neat way to avoid blowing your money on an expensive outdoor lighting rig, and you can even shoot it with just one light.
---
Setting Up the Shot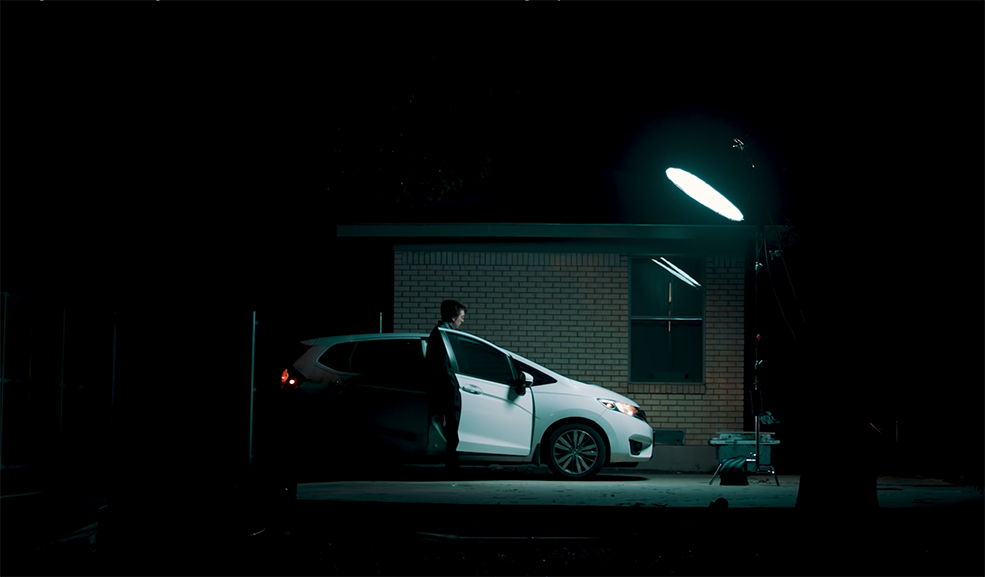 To pull off the shot you see in the video above, it takes just a few pieces of equipment; use a soft light source such as a LightDome, a camera, and a tripod. In this example, all we needed to light up was the car in the driveway, so we moved the soft box close up to the car, and shot the scene of our subject walking up to the car.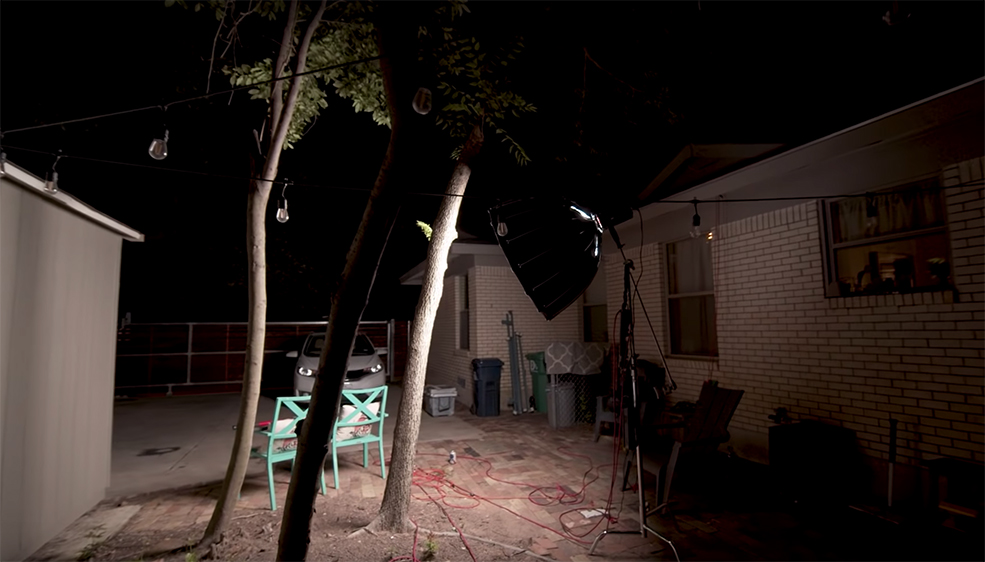 The next shot is how we are going to be able to remove the light in the first shot. Remove the light and bring it just out of frame. Use that light to blast brightness to the area behind where the light previously was  (where there was darkness in the shot beforehand). Now, just shoot a 30 second plate of that lighting setup. If there are any other layers you would like to add, feel free to record more plates if you need an accent light on a specific part of the shot.
Bringing it Together in Premiere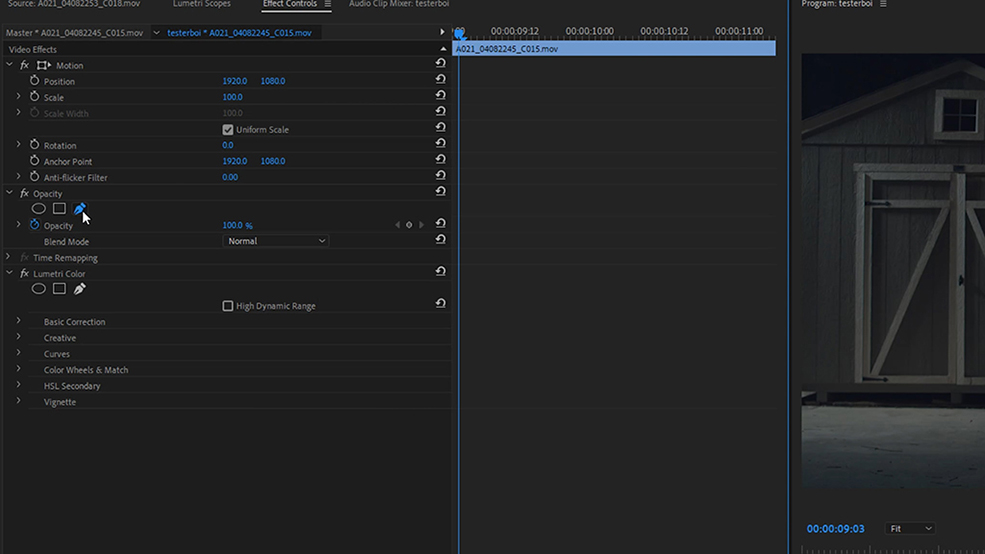 Now the best part of this trick is how incredibly simple it is. First up, bring 'em on into Premiere. Now, all you need to do is layer your two clips on top of each other with the one with the most information on bottom, and the least on top. If you have multiple clips, use this methodology for all clips. Go into the effect controls of the top clip, and select the pen tool under the opacity settings.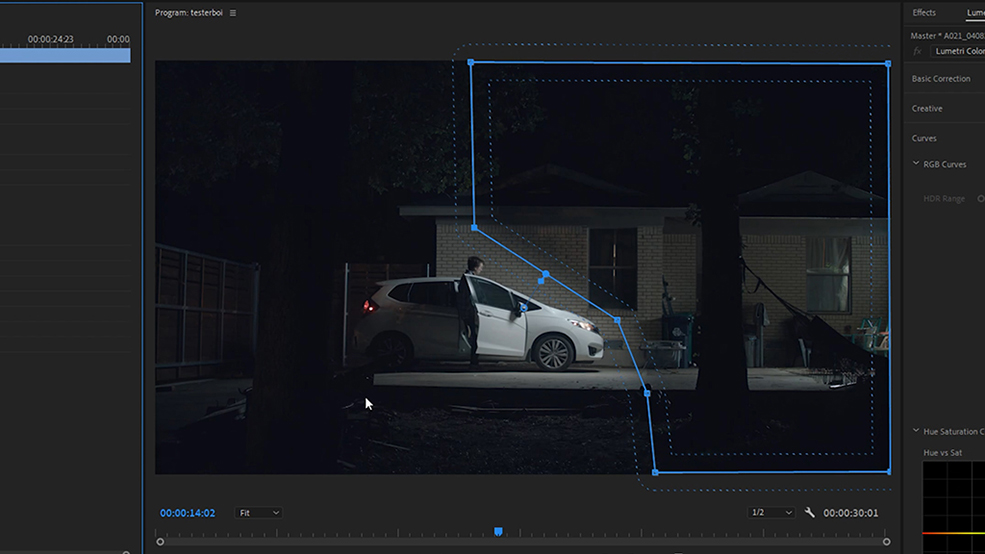 This will open up a new mask layer. So, from here, highlight the area of the shot the light is in, along with the lit up section. If you can't see the light under the shot, you can bring down the opacity of your top clip to get a view underneath it.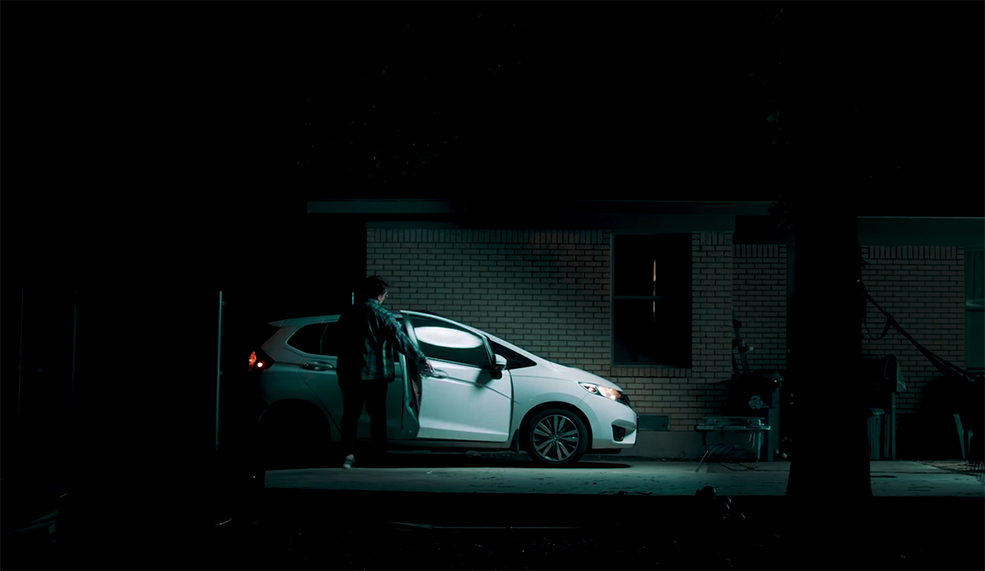 Once you have completed your mask, it will remove the other areas of the shot and blend both of your layers together. Go into the feather settings in the opacity tab, and feather until the shots blend correctly. Both shots might look a little different lighting-wise, so be sure to work with your Lumetri Color curves to balance each part of the shot.
Giving the Static Shot Motion
One of the downsides of this type of compositing is that you can't really move the camera in any interesting ways to get the shot you need. You can, however, add motion digitally. There's always the option to do a digital zoom by creating scale keyframes to simulate a lens zoom. But since you are working with multiple layered clips, it's incredibly important to nest your clips so they stay together. To do this, all you have to do is select all the clips on top of each other, and then Right Click > Nest. This will give you one clip to edit when adding motion.
If you want more of a handheld look, there is a digital solution to that. Our friends over at PremiumBeat have a series of camera shake presets that you can use in After Effects to simulate the handheld look. You can download those here.
---