Always looking for a new cool font to use on your project? Check out these 11 great fonts for lower thirds graphics.
Cover image via Shutterstock.
Whether you went to art school or developed an eye for design on your own, you simply know a good font when you see it. When you're editing a project that requires lower third graphics for names and titles, the font choice is perhaps the most important decision you have to make.
Here are eleven great fonts to consider on your next project. Let's jump in.
---
1. acriform

The secret to great lower third fonts is simplicity. A font like acriform is a perfect example of something clear, compact, and simple. It's also a bit playful, which is great for projects that need something fun. Like many of the fonts on this list, you can get it over at Adobe's Behance.
Check acriform out here.
---
2. Alcubierre

Alcubierre, made by designer Matt Ellis, is another terrific lower third font. It's clean and thin, so it's great for condensing longer titles and names into a small space. You can download the typeface free at its website.
Check out Alcubierre here.
---
3. ANURATI

If you believe the hype (and you should), ANURATI is the future of typefaces with its minimal and (slightly) obscured design. Perfect for those trendy projects that need an extra boost of creative design to cut the edge.
Check out ANURATI here.
---
4. ARUNA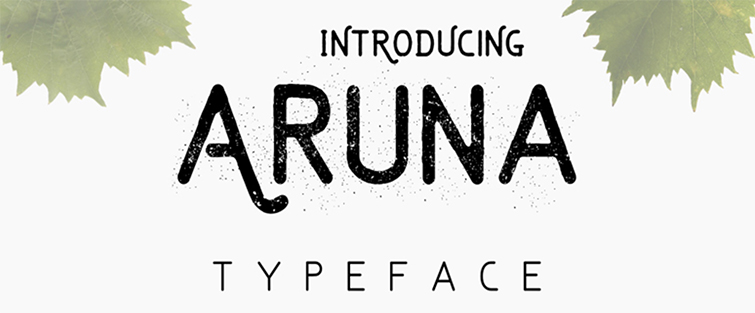 Feeling a little granola? Try out this eco-friendly typeface ARURA for your next nature adventure project. It's the rough, speckled, creative imperfections that make this font the right typeface for unique creations.
Check out ARUNA here.
---
5. BUILDING

Ayn Rand, eat your heart out! BUILDING is a sturdy typeface that inspires towering lower thirds. The font's visual impact can give any project a powerful undertone.
Check out BUILDING here.
---
6. Butler

Butler is a modern serif font that can stand out in the benign Times New Roman sect. It's light, small, and easy to manipulate for maximum usability in your compositions.
Check out Butler here.
---
7. Simplifica

Simplifica is what it name implies: simple. It is also sleek and modern and easily condensed with its long limbs and lines. I would recommend putting it against a solid backdrop or overlay to let its thin design pop.
Check out Simplifica here.
---
8. Kirvy
 
Kirvy is as cool as they come (at least for fonts). With strong uppercase lines, the font playfully curves in the lowercases for a fun juxtaposition that is great for titles. Strong but nonthreatening, it's great for projects big or small.
Check out Kirvy here.
---
9. Nevis

Nevis by Ten by Twenty, is a strong, angular font ideal for short names and titles. Its quaintness is endearing and practical, no matter the space you need for your composition.
Check out Nevis here.
---
 10. NOOA

NOOA is a demi-serif font that blends the two styles with a cool precision that makes it accessible and unique. The font harkens back to a nostalgic era of print that is downright beautiful.
Check out NOOA here.
---
11. TUNA

Tuna is as fun to work with as it is to say. TUNA is a delightful combination between Roman and Italic that brings a book-like feel to your project. It's fresh and tasty and best served with butter for a well-defined flavor.
Check out TUNA here.
---